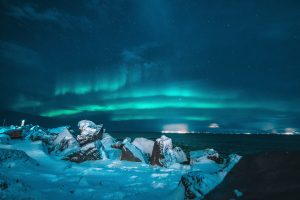 Arrival and airport transportation
The international airport is situated in the town of Keflavik, about 45 km. from Reykjavík. When you land in Iceland, there are flybuses connected to every flight situated outside the terminal. Tickets can be obtained by booking online, make sure you book Flybus+ that takes you all the way to the hotel or in the arrival hall at the airport. The trip to Reykjavík takes 40 minutes over a landscape of pure lava! When you leave remember to order a Flybus pick-up from, or close to, your hotel the night before departure. Taxis are also available outside the terminal. You can also take the bus from the terminal
Accommodation
Recommended hotel is Radisson Blu Hotel Saga during the meeting days. We have rooms reserved for the conference at a special offer, the offer will expire after 22nd of October. You can book Rooms at this hotel will be reserved for guests of the conference until the 22nd of October. It is situated on the campus of the University of Iceland, a short walk from the old center of Reykjavík.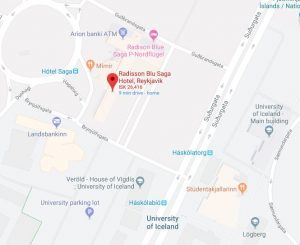 Meeting venue
The meeting will take place at University of Iceland, in Veröld – Vigdís' House. Veröld is the newest building at the University campus.  It houses teaching, research and events connected to foreign languages and culture. It's named after the former president of Iceland Vigdís Finnbogadóttir.
Climate and clothing
Due to its position in the middle of the North Atlantic current, Iceland enjoys a temperate climate with mild winters and rather cool summers. Regarding the weather in Iceland in November, you can expect almost anything, as the weather is very unpredictable; rain, sun, snow, wind, and temperatures between -5° to 5° C. In order to be well prepared, we recommend to bring good shoes, a warm sweater and a good overcoat. And it is absolutely necessary to bring a swimsuit if you want to enjoy any of the numerous outdoor geothermal swimming pools and hot tubs in Reykjavik, or even try a natural geothermal spa like the Blue Lagoon.
Currency
The currency in Iceland is the Icelandic Krona, ISK. Please notice that the exchange rate may fluctuate. The best way is to follow the rate is to visit the site published daily by the Central bank of Iceland.
Time zone
Iceland is on Greenwich Mean Time (GMT) all year and does not change into summer time. This means that at the end of November the time difference from Central European time (CET) is 1 hrs. earlier.
Water
All water in the tap comes directly from natural resources, the cold water from abundant water sources and glaciers and the hot water comes directly from geothermal sources. Water is natural and not treated or filtered in any way. Iceland has the cleanest cold water in the world. No one buys water, as it would just be a waste of money. You just open any cold water tap and you get a gush of clean, clear, cold, untreated, natural water that comes from 300 years of filtrating through lava. The hot water tap has natural geothermal water, and you may notice slight volcanic sulphur smell. The longer you let the water run, the hotter it gets. And there is always enough! You can stand under your shower for hours and never run out of hot water. All water in Iceland comes from completely ample, renewable sources, and does not cost us anything, so enjoy!
Daily and personal needs
There are two supermarkets at a walking distance from the hotel for any personal needs. One is the local supermarket Melabúðin, open every day until 20:00 and the other one is Krambúðin, open until 23:30 every day.
Food
Seafood, lamb and dairy: Icelandic cuisine is famous for its variety of fresh fish and seafood, caught the same day and is incredibly fresh. The typical meat is the Icelandic lamb, it has a very mild taste and is famous for being very tender. Sheep are free to roam around the country large part of the year, so the meat is wild and completely bio. Dairy products are also very good in Iceland, and come in great variety. The signature product is the non-fat protein-packed "Skyr", which can best be described as cross between yogurt and curd.
Swimming pools
One of the numerous geothermal swimming pools in Reykjavik, Vesturbæjarlaug is just 3 minutes' walk from your hotel, admission is very cheap, and a visit to the pool is a great way to mingle with the natives. If you forget your swimsuit or towel, you can rent both at the pool. Icelandic pools are more like spas, with numerous facilities, hot tubs, from 37°C – 46°C, saunas, cold pots, etc., so make sure you can benefit from the healthy geothermal energy: Swimming pools in Reykjavik.
General information
If you are thinking about extending your stay or want to make use of any extra time, I can recommend many good excursions. It is not every day that you have a chance to visit a country like Iceland, with its wild nature, clear, clean air and abundance of water and natural forces. If you are interested in learning more about our beautiful, unique country before your visit, you can visit: www.iceland.is or: www.inspiredbyiceland.com